In The News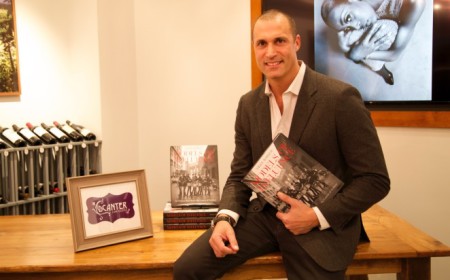 Fashion Photographer Nigel Barker Hosts Book Signing Event at DCanter Capitol Hill
Former America's Next Top Model Judge and Acclaimed Photographer
Celebrates His New Harper Collins Publication, Models of Influence, at Premier DC Wine Boutique
On Saturday, February 28, DCanter – Capitol Hill's modern wine and beer boutique – brought together fashionistas and wine aficionados for an afternoon book signing event with famed fashion photographer Nigel Barker. Held in DCanter's intimate Tasting Room, guests sampled wines from fashion capitals of the world while mingling with Barker as he signed copies of his new book, Models of Influence. Barker's DCanter event served as his third signing outside of his New York hometown.
Barker's Models of Influence profiles 50 of the world's most inspiring models from the 1940's to today through 200, full-color photographs by esteemed photographers. Barker is most known for his time on "America's Next Top Model" with supermodel Tyra Banks and his recent work with supermodel Naomi Campbell on "The Face."
ABOUT NIGEL BARKER:
Nigel Barker is a fashion photographer whose images have been printed in many major magazines. The host of Oxygen's The Face, Nigel was also a judge on America's Next Top Model for nine years. He directs and produces films and documentaries, many of which are devoted to his humanitarian work for organizations such as the Humane Society of the United States, the Make-A-Wish Foundation, and the Elizabeth Glaser Pediatric AIDS Foundation. He lives in New York City with his wife, Cristen, and their two children, Jack and Jasmine.
ABOUT DCANTER:
Owners Michael and Michelle Lim Warner launched in 2013 with the goal to provide a wine and beer experience unlike any other. The Capitol Hill boutique offers products and services that encourage customers to experience and discover unique artisanal wines and craft beers – all in a chic, inviting environment. With a dedicated tasting room and educational space, DCanter brings the rustic passion of winemakers and brewers to the bustling city. Address: 545 8th St. SE Washington, DC 20003. Phone: 202.817.3803. Website: www.DCanterWines.com.